About Us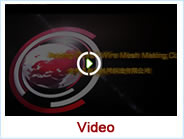 Anping Ocean-Wire Mesh Making Co., Ltd. is a very professional (ISO 9001:2008 certificated) manufacturer and exporter of series wire mesh products. This company is located in South Industrial Park of Anping which is well known as Wire Mesh Land of China, enjoys convenient transport condition being close to Beijing, Capital City of China and Tianjin, one of the most important seaport in North China.
Our company has advanced production equipment, first-class technology and complete quality management system....
Products List
Razor Mesh

Razor Mesh is a versatile, high security fencing mesh designed to protect you and your property without marring the appearance.

Concertina razor wire Concertina coils are the most popular high security fencing for military and high grade residences safety. Two main types available for concertina coils: one is the single coil and the other is crossed concertina coils. Crossed concertina offers the highest security grade among all the razor wire fencings.
Barbed Wire Hot dipped Galvanized / PVC/ PE Coated Barbed Wire in IOWA type, with 2 strands, 4 points. Barbs' distance 3-6 inches ( Tolerance +- 1/2" ).
Galvanized Barbed Iron Wire is suitable for industry, agriculture, animal husbandry, dwelling house, plantation or fencing
Chain Link Fence Materials: Quality low carbon steel wire, stainless steel wire, aluminum alloy wire.

Weaving: Chain link knitting. Easy and flexible for installation and connecting. Beautiful and practical for uses....
razor wire flat wrapRazor Wire Flat wrap Applications
2 X 900 mm Razor wire flat wrap installed against an existing smooth wire mesh fence substantially improves the effectiveness of the fence. Installed on this basis, innocent persons are protected from injury by the smooth wire mesh.