We can supply good quality PVC coated barbed wire for security and fencing uses.

Wire Materials: PVC coated barbed iron wire, Core of it can be galvanized iron wire or black annealed iron wire.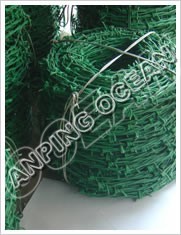 Colors: A variety of colors like green, blue, yellow, orange, gray, is available with PVC Coated Barbed Iron Wire produced by us.

Packing: In coil of 25 kilos or 50 kilos net, lined with P.V.C strips, then wrapped with P.V.C or Hessian cloth.

Characteristic: because of the high strength and higher toughness, PVC can reduce the wear between layer and layer, rope and spool during operating. With the excellent corrosion resistance, PVC wire rope is good for ocean engineering, irrigation machines and big excavators.
Usage: Barbed wire can be widely used as accessories for woven wires fences to form a fencing system or security system. It is called barbed wire fences or barbed obstacles when it is used simply by itself along the wall or the building to give a kind of protection. Barbed wire is also written as barbed tape as it is always used in a line to form a kind of tape. Barbed wire provides vital protection for the rest of a fence by preventing downward pressure form cattle or other heavy animals. And Barbed Wire mainly serves in protecting of grass boundary, railway, and highway also widely used in military, jail, industry, agriculture, dwelling house, plantation for fencing.